KAON GEAR GUIDE: Aerial Mounting Options
Date Posted: 13 August 2021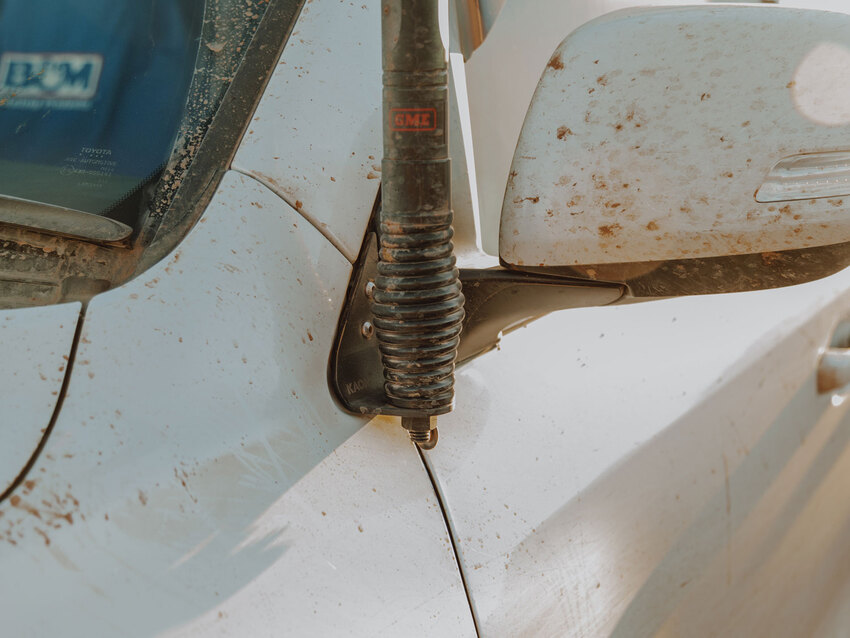 Are you like us, and all the extra time at home lately got you turning to the shed for entertainment? There's nothing like a free weekend for tackling a project you've been putting off. Our latest one? Relocating our aerial off the bullbar.
There are a few reasons for doing this – it could simply be that it sitting constantly within your line of sight is annoying. Maybe you like the look of the increasing popular hoopless bullbars, which often don't have a designated mount or look odd with an aerial attached if they do. Or maybe it's the reason we designed our range in the first place: that you have a particularly enthusiastic photographer in the passenger seat, who is endlessly frustrated with an aerial being the star of every shot they take.
Let's get to it then, shall we. Here's our range of KAON Aerial Mounting options.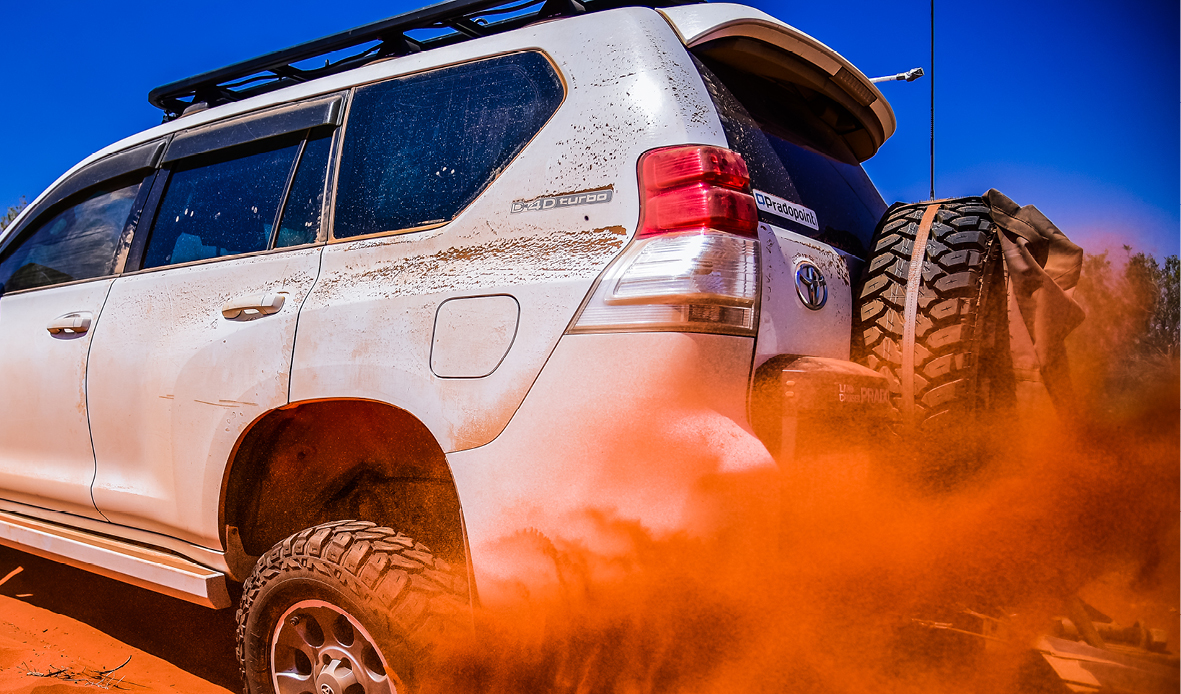 Options to suit the Toyota Prado 150 / Lexus 460
Rear Mounts, 3 Ways
Prado 150 owners, you're in luck – we have three different options for those looking to relocate their aerial to the rear. All three mount to the existing spare tyre carrier points, and are designed to allow for the factory tyre cover to be retained.
The first of the three is the Single Mount, which as it suggests, has a single mount for an aerial.
Then there's the Double Mount, which has two mounting points, one on each side of the spare tyre. Its dual mounting provides flexibility in your setup – giving you the option to mount two aerials, or both an aerial and work/camp light. Its cousin, the Stacked Mount, also provides two mounting points, but on the same side of the tyre slightly offset from one another. It was designed to allow the use of a folding aerial mount, so that the folded aerial can clear the spare tyre.


For all three mounts – we don't recommend that you run a longer, heavier aerial on these. We recommend you opt for a 600mm fibreglass antenna, or if you want a longer one opt for a lightweight whip antenna.

Front with a twist
Want to keep your aerial front and centre? Well... not literally centre. The best option for you is the Bonnet Hinge mount, which comes in both a Left-Hand Side and Right-Hand Side variation. We see most customers opting to keep it on the passenger side, so depending on where you are in the world, you can pick the side to suit.

Whilst this mount means your aerial remains in front of the windscreen, its discreet position means it's all but hidden behind your A-pillar. It's also designed to sit clear of both wipers, and the windscreen when the bonnet is up.
Hot tip: If you're a fan of doing night runs, we've also had customers use these for off-road ditch lights too.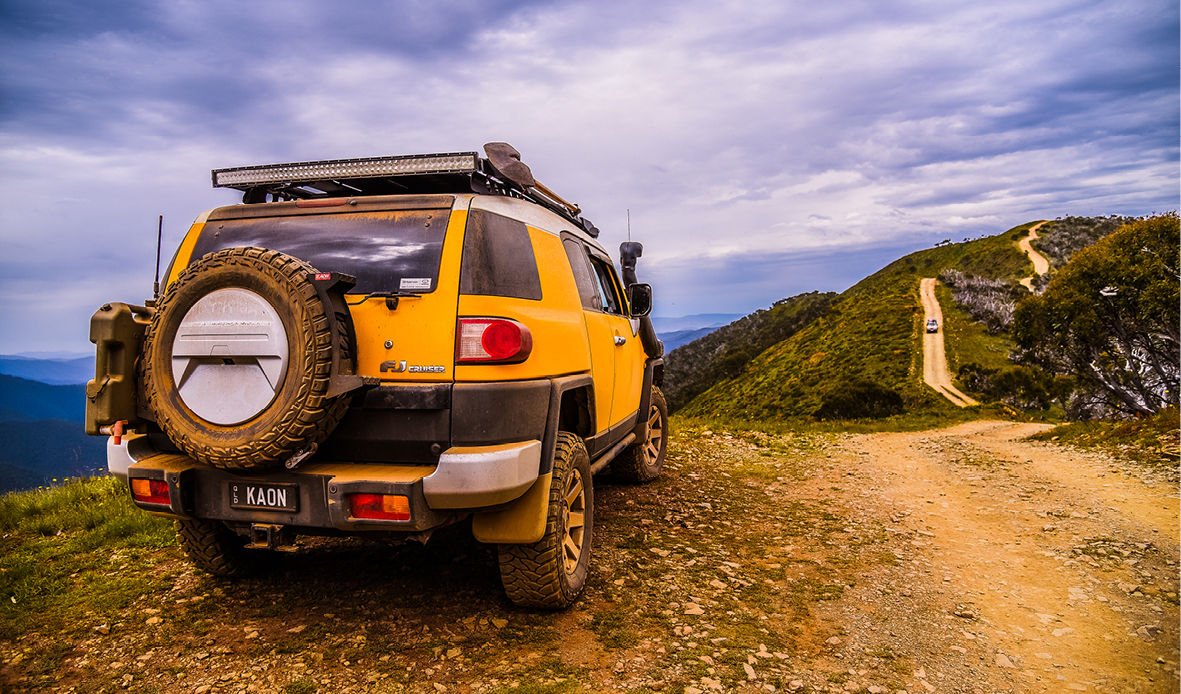 Options to suit the Toyota FJ Cruiser
A Little Unhinged
As FJ owners ourselves we're a bit partial to the Rear Hinge Mount, often called a Bandi Style mount. Bolting to existing holes, we think it's pretty elegant and quite discreet as far as brackets go – making it look sleek on the back of the vehicle.
The biggest consideration with this style of mount is if you're running a 270 awning on your passenger side. In this case, it may pay to run a shorter antenna, such as a 2.1dBi whip, rather than some of the common taller whips.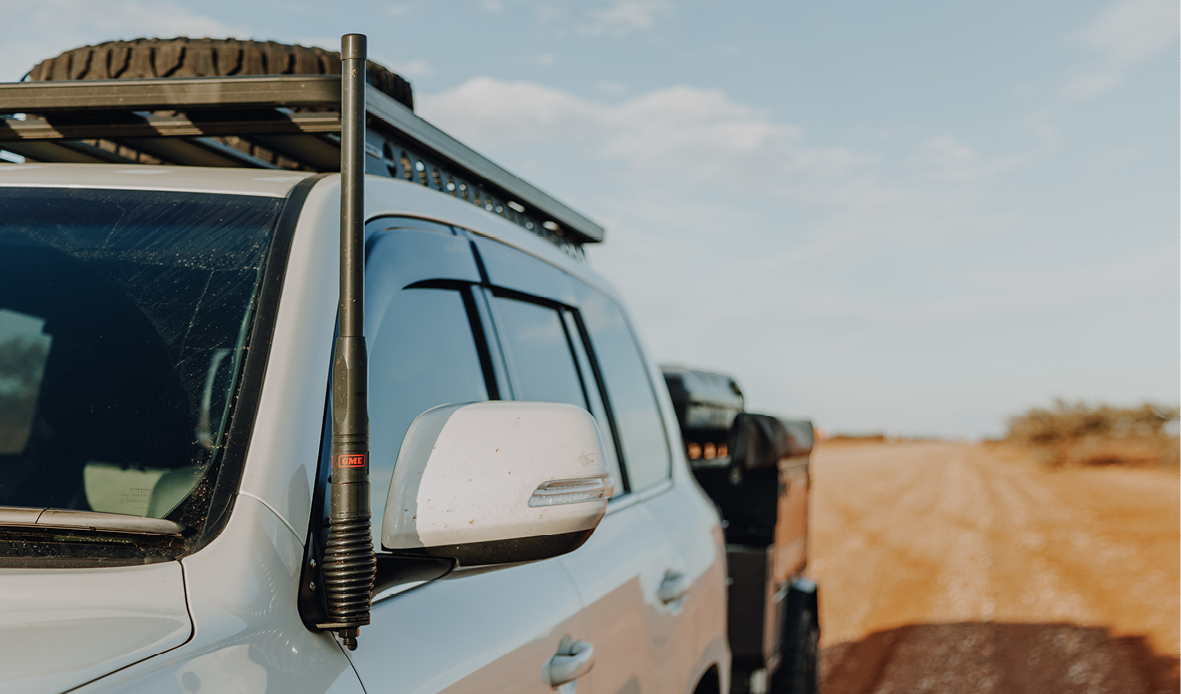 Options to suit the Toyota LandCruiser LC200
Mirror Mirror on the Door
Our mount for the LC200 owners is undoubtedly one of our most popular: the Side Mirror Aerial mount.
Developed using 3D scanning, most customers love this one because it looks a bit sexy (if we do say so ourselves) and fits like a glove. It's also compatible with Clearview towing mirrors.

It comes in both Left-Hand Side and Right-Hand Side variations. But as with the FJ mount, you need to consider how it will work if you're running a 270 awning. With options for both sides, it's an easy workaround to simply mount it on the opposite side, or just opt for a shorter antenna whip.
This one requires drilling and installation of a nutsert, which is easiest done with a nutsert gun or tool. Never fear: to make this easy we also include all the necessary hardware for a tool-less installation.
Curious to see more on this one? You can find the installation video here.


No matter which you pick...
All our aerial mounts use slotted mounting holes, to make it easier to change out your aerial and move it out of the way. There's nothing worse than having to pull the entire cable through the hole to adjust your setup.

Curious to find out more about your options? You can shop the blog here.

Bonus Option
Because we love nothing more than sneaking them into every opportunity, we've also created a bottle opener that fits under your UHF, so you'll always have one handy. Its slotted mounting hole means it's super easy to install. Just make sure you have enough clearance for a bottle to get under it when you're mounting it.
Pass us a coldie, Over.



---
Leave a comment