About Us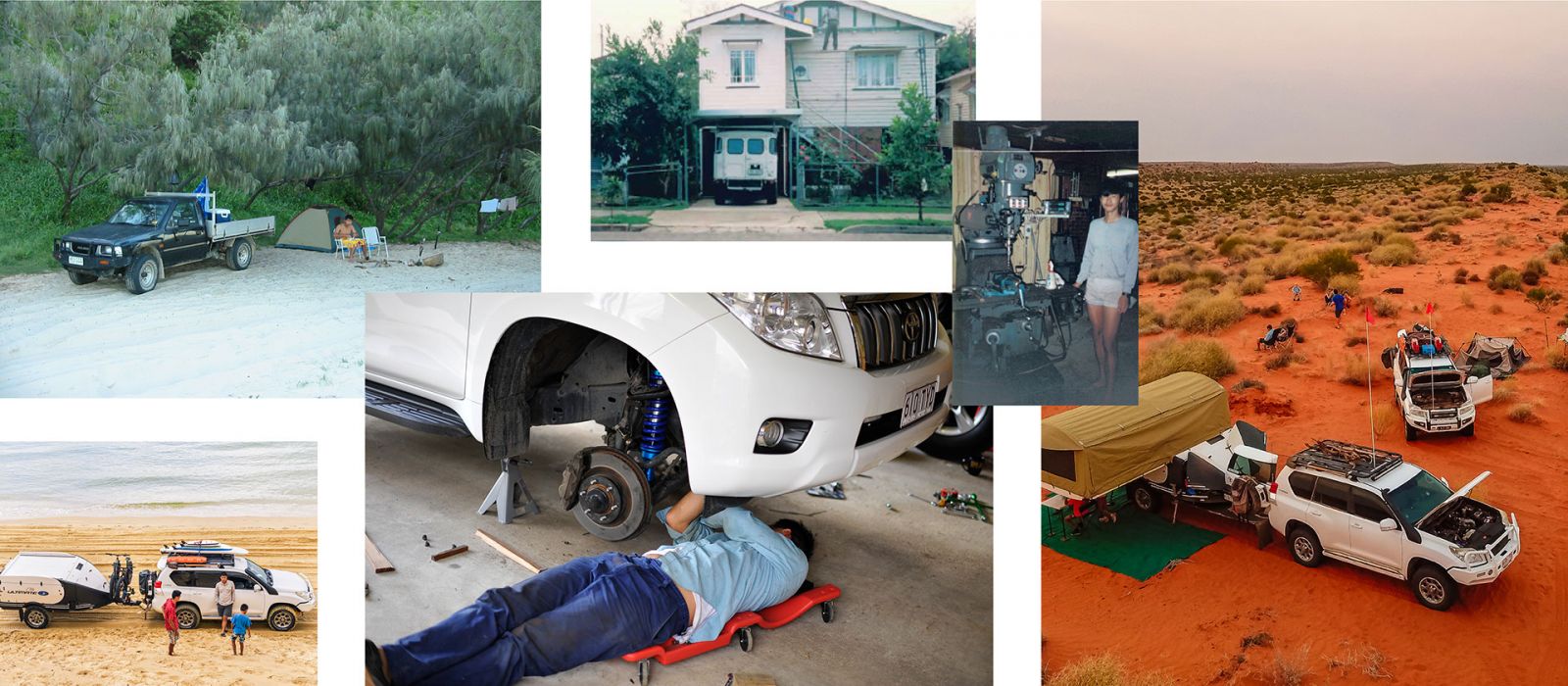 Our Story
At its heart, our story is quite simple. KAON evolved from the desire to find better solutions for real problems.
You could say the KAON journey began in 2014, when our founder, Tin Hua, bought his first 4x4. But really, it started much earlier than that.
The innovation that sits at the core of our business goes right back to the late 1980s, with a Father and two sons in the family garage. Out of work during the economic downturn, Tin's father, Thang, invested in a small lathe and set up a basic workshop in the garage of their West End home. As young boys, Tin and his brother, Le, would clean and oil the machine as part of their chores, and started learning the trade from an early age. This became the first machine of the family business, TNN Engineering, that remains the foundation of KAON today.
Fast forward to 2014, and with young kids, the seeds for KAON were sown from Tin's desire to spend more time together as a family. Instilling the love of the outdoors in their children through fishing, swimming and hiking; weekends were often spent exploring and camping in old company utes, at first with nothing but a basic four-man tent. It wasn't long until the first family 4x4 was purchased – a Toyota Prado.
An enthusiastic tinkerer, Tin got to work on some simple modifications and stumbled across a few problems. Unable to find adequate solutions, he made his own and shared them online, where interest quickly grew. It wasn't long before he was packing orders for everything from transmission cooler brackets to cargo barriers.
From the very beginning, every item has been approached in our signature KAON way. Thoughtfully considered details and innovative, easy-to-install designs have been central to our products right from the first prototype; made with Tin, laying under the car in the garage, with a humble piece of cardboard.
Today, things look a little different. With the introduction of cutting-edge 3D scanning technology and a passionate team, we now have hundreds of locally-made products. Our engineering roots are as strong as ever, and we remain steadfast in our support of Australian manufacturing, trades and jobs, and championing local innovation for the next generation.
Creating 4x4 accessories gave us the confidence to explore horizons beyond what we thought possible. From the OTT in Cape York, Balfour in Tasmania, crossing the Simpson and everything in between – nothing feels beyond our reach anymore.
Exploring these places enables us to make memories, that as a family, we'll remember for the rest of our lives. We hope that the products we create give you the confidence to do the same, and that they push you to always keep exploring.
Our Mission
We give adventurous spirits the confidence to enrich their lives by exploring and connecting with the outdoors.
At KAON, we pride ourselves on creating 4x4, touring and camping solutions that are cleverly designed, meticulously engineered, and most importantly – address real problems. We like to approach things differently, by championing innovation, cutting-edge technology and precision.
From our humble origins in the family garage in Brisbane, our business has transformed into the state-of-the-art workshop that sits at the heart of KAON today.
Over 25 years later, we're proud to still be Australian designed, Australian made and Australian owned.
Our Values
We're relentless in the pursuit of elegance.
We pride ourselves on thoughtful and clever designs, and our products always meet strict criteria; aesthetically beautiful, functional, repairable, and foremost, durable.
We're curious and unbound by convention.
Whether it be in the workshop or on out the tracks; it is our deep curiosity and desire to find a better way that pushes us further, so we can push our customers further.
We support, and are, locals.
At the heart of our business is a deep appreciation for what it means to be local. From caring for our people, our customers and our partners; to stewardship of our wild spaces; we're always working to support, inspire, and share knowledge.