Returns
To see our Returns Policy, click here.
To see our Warranty, click here.
How to Process a Return
Step 1. Log into your account and click on Resolution Centre.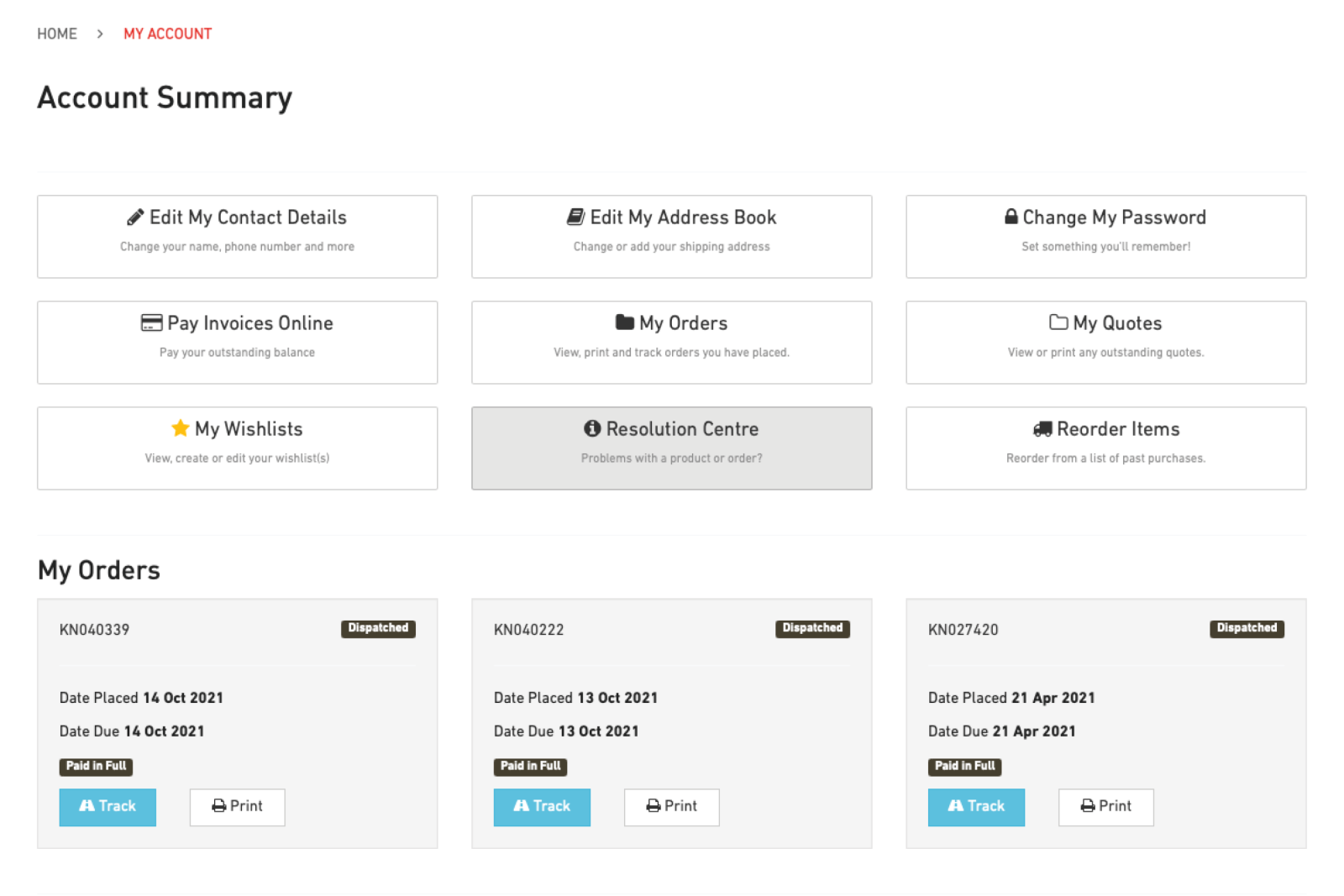 Step 2. Open a New Dispute.

Step 3. Click Item Dispute.

Step 4. Select the reason and select the order where you purchased the item.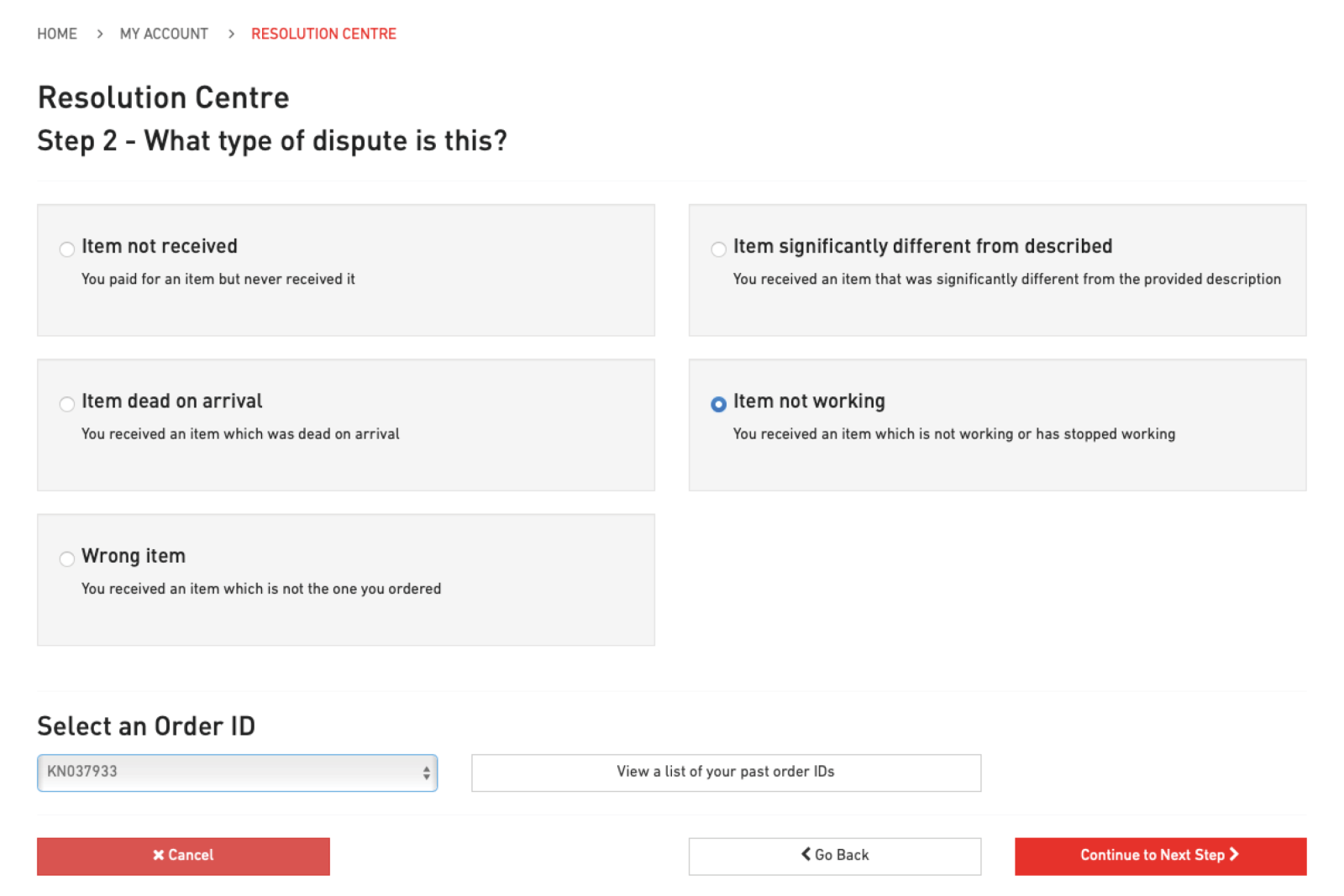 Step 5. Dispute the selected item on your order, or the entire order if required. Include notes as to the reason in the dispute explanation. Click Continue and this will lodge your dispute.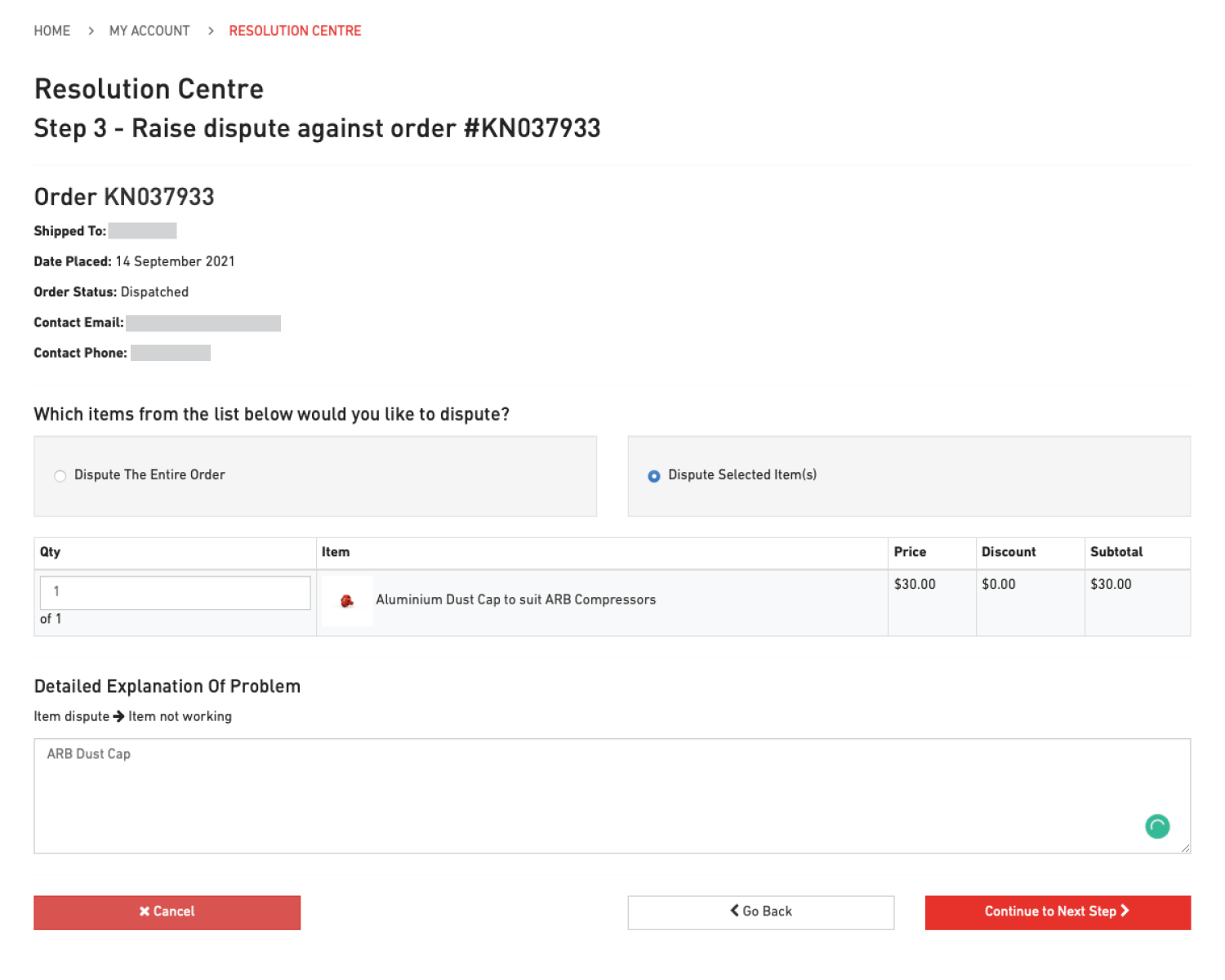 Our Returns Policy
We understand that you might need to return something to us for a number of reasons. Please contact us before sending anything back. Items must be returned to us via tracked postage or courier. Without a verifiable tracking number, you accept full risk of the item not reaching us. Returns not received by us will not qualify for replacement or refund.
1. You changed your mind
We offer a 30 day return policy for change of mind. That means if you are not satisfied with your purchase, you are welcome to return it to us up to 30 days after you received it for your choice of exchange or full refund, excluding original delivery costs.

All returned items must be in brand new, unused condition, in their original shipped packaging, and include all parts and accessories. Where returned items are not received by us in brand new condition, we will return them to you once you pay us the cost of redelivery to do so.

Return shipping costs are non‐refundable. For exchanges, we will cover the cost of sending a replacement product back to you.
2. The item arrived damaged or missing parts
All orders leave our warehouse in brand new undamaged condition. If your item arrives damaged or missing parts, we will gladly replace it for you (or if stocks are exhausted, refund you in full) and reimburse you for any return shipping costs you incur to return the item to us. Please email us a copy of the receipt for any shipping costs you incur.

All claims for damaged items must be made within 2 business days of receiving your order. It is important that you open your order as soon as you get it, and notify us immediately if there is any damage.

Please take photographs of any damage and email them to us before sending the item back, as we need to report damage to our insurer, delivery courier and warehouse.
3. The item is faulty
Your purchase automatically comes with protections under Australian Consumer Law that cannot be excluded. All of our products are fully backed by manufacturer warranty.

Should your product be faulty, please contact us so we can guide you through the correct process for having the fault rectified under the manufacturer warranty. Depending on the manufacturer's warranty terms and requirements, we will either repair or replace it for you (or if stocks are exhausted, refund you) excluding original delivery costs.
Our Warranty
KAON 4x4 and Touring Accessories will carry out, free of cost, any repairs to our products that are reasonably necessary to correct any fault in the operation of your KAON product, provided that such a fault is directly attributable to a defect in the workmanship or materials used in the manufacture of the part(s).
1. Warranty Periods
KAON 4x4 and Touring Accessories warrants all goods for a period of 3 years and unlimited kms from the date of purchase. Exceptions to this include Transmission Oil Coolers and Underbody Water tanks, which are warranted for a period of 2 years.
2. Exclusions
Our warranty does not cover:
a. normal wear and tear;
b. misuse, alterations, tampering or neglect, including improper repair or maintenance;
c. use of the product in any manner other than the purposes for which it was originally designed; and/or
d. installation and fitting inconsistent with KAON 4x4 and Touring Accessories' written recommendations and/or installation instructions.
Labour and consequential costs are excluded under warranty.
3. Australian Consumer Law
Our goods and services come with guarantees that cannot be excluded under the Australian Consumer Law. For major failures with the service, you are entitled:
a. to cancel your service contract with us; and
b. to a refund for the unused portion, or to compensation for its reduced value.
You are also entitled to choose a refund or replacement for major failures with goods. If a failure with the goods or a service does not amount to a major failure, you are entitled to have the failure rectified in a reasonable time. If this is not done you are entitled to a refund for the goods and to cancel the contract for the service and obtain a refund of any unused portion. You are also entitled to be compensated for any other reasonably foreseeable loss or damage from a failure in the goods or service.
4. Making a Claim
Please contact us as soon as you become aware of a possible defect with a KAON 4x4 & Touring Accessories product or service performed.
In the event of a warranty claim, our returns process and guidelines can be found above. If further information or investigation is required for us to process your claim, we'll let you know.