What Are The Best Compatible Weber Q Accessories?
Date Posted: 19 March 2020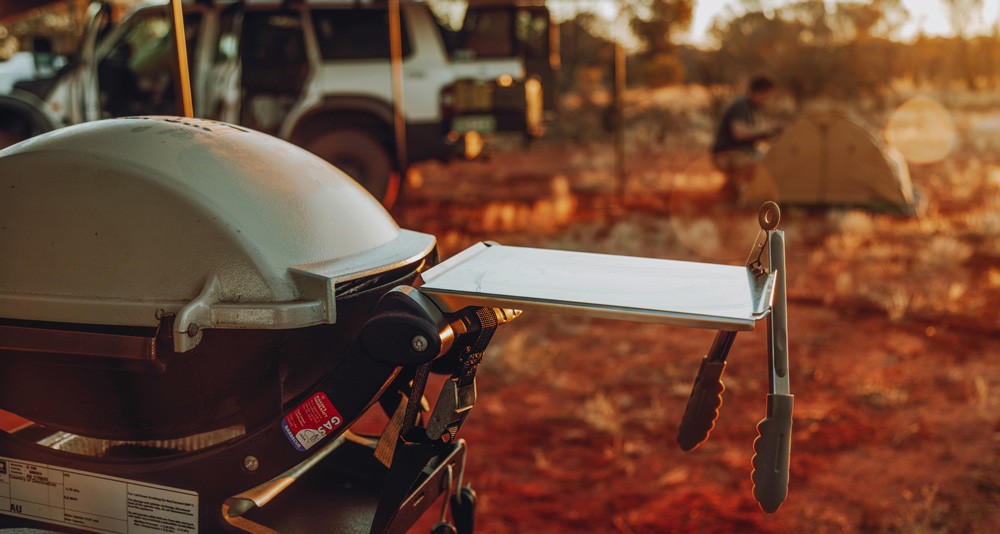 The Weber Q BBQ range is one of the most popular camping and touring accessories across Australia. These grills are famous for being well-built and compact. The premium models of the Weber BBQs include a high domed lid for large roasts, a continuous and easy spark electronic ignition, and a built-in thermometer to grant you greater control over your cooking. Not only can the Weber Q range cook your classic barbeque meats such as beef, pork, and chicken, but they are also proficient in cooking fish, pizza, vegetables, breakfast foods, and even cakes, puddings, and muffins. It truly is a versatile cooking machine. The most popular series within the Weber Q range are the Weber Baby Q and the Weber Q.
The Weber Baby Q
The Weber Baby Q is designed for those people with limited space who do not require a full-sized BBQ accessories unit. Being so versatile and compact has made the Baby Q a popular choice amongst the caravanning and camping community. It would be safe to say that you would be able to find one at any caravan park across Australia. The small form factor also means that the Baby Q is perfect for apartment living, with enough cooking space for up to six people. So, you're not limited with regards to the number of dinner guests, even with a smaller cooking unit. The pick of the Weber Baby Q models comes with a high dome lid for extra space, electronic ignition, a built-in thermometer, a cookbook, and a DVD. It is ideal for BBQ food, roasts, or grilling all kinds of foods. Prices for the Weber Baby Q start at just over $300 on the Weber website.
How big is a Weber Baby Q?
These latest models are actually larger than the previous Baby Q range. The premium model boasts a height of 40cm when the lid is closed. When the side tables are extended, the Weber Baby Q spans a width of 131cm. The unit weighs around 16.5kg and can feed up to six people at once.
How do you use a Weber Baby Q?
Using a Weber Baby Q unit is easy. Simply open the lid and unfold the surfaces before turning the burner knob to the start position. The hit the ignition button to light the BBQ, before turning the gas down to low. Close the lid and let it run like this for ten minutes. The cooker should then be preheated and you can start cooking.
Can you cook a roast on the Weber Baby Q?
You most certainly can. A roast is actually where the Weber Baby Q excels, along with barbequing. It can even cook up fish, vegetables, cakes, and puddings. This unit has been designed to cover a range of different dishes to ensure you get good use out of it. The best results are achieved with a convection tray and trivet, which helps to circulate the hot air around the food, ensuring even cooking.
The Weber Q
The Weber Q is the original standard sized gas BBQ grill. It is the perfect size for use at home, while also not being too bulky to take with you for a cookout on the road. The standard Weber Q series ranges from $429 up to $459 for the premium model on the Weber website.
The Weber Family Q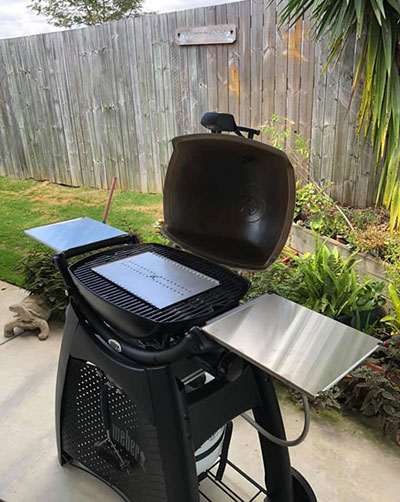 Are you in the market for a large cooking unit to feed the masses at your parties? Look no further than the Weber Family Q. As the name suggests, this larger Weber unit has the power and space to provide food for large groups of friends and family. Not only that, but it remains a very economical option with great gas efficiency. The unit is easy to assemble and takes up very little space with its slim design and fold-down sides. Not only is it capable of producing a rip-roaring roast and a succulent BBQ, but it can also cook full-sized pizzas and even cakes. The Weber Family Q is also easy to clean, with no more oil splatters. It produces no smoke to ruin your garden parties. And, it is also extremely easy to operate, no matter who is in charge. Prices currently range from $719 to $779 on the Weber website.
The Weber Built-in
Sometimes, cooking is more than a BBQ in the back garden. If you are looking for a professional and top-of-the-range built-in cooking unit, then look no further than Weber. They now offer built-in options for your home, as well as custom outdoor kitchens for those of you who like to cook in the sun and have friends and family over. These units can include extra workspace, stainless steel burners, spit fork rotisseries, and much more. They are perfect for grilling, roasting, cooking, barbequing, baking, making pizzas, and anything in between.
The Weber Q Accessories
You know what they say, a professional is only as good as their tools, and a cooking unit is only as good as its Weber Q compatible accessories. Without the perfect gear to go with your BBQ, you may not be even able to get it started, let alone cook an incredible meal. From scrapers to spatulas, firelighters, trays, wood chips, butane, cleaning products, pans, marinade injectors, brushes, cutlery, smoking pellets, mats, thermometers, covers, and much more, there is plenty of gear out there to assist you in your cooking quest.
Top Three Weber Q Accessories
When it comes to investing in BBQ accessories for your Weber Q, it can be difficult to know exactly what to go for. Therefore, we thought we would list our top three 2020 BBQ accessories for Weber Q.
BBQ scraper cleaning tool
This is perhaps the most diverse of the compatible Weber BBQ accessories on the market right now. If you are aiming to get plenty of years out of your BBQ, then it is crucial that you maintain its level of cleanliness. Luckily, there are a few cleaning tools out there designed to do just this, with the Weber wire brush taking many plaudits. However, this brush often finds it tough to clean between the gaps of the BBQ and there is also the risk of broken bits of wire ending up in your food. Designed specifically by KAON, BBQ scraper cleaning tool was created with this in mind, boasting five handy uses within one small and affordable scraper. The flat scraper can be used to clean the top of the grill, the deep teeth can remove gunk and grime, the smaller teeth can clean shallow grill sections, the single deep tooth can floss and thoroughly clean grill gaps, and the tool even has a bottle opener! There are two models. A 3 digit model for Weber BBQs with 3 digit model numbers such as 100, 110, 200 and 220. The 4 digit model is for the current and newer models with numbers such as 1000, 1100 and 2000.
Stainless steel side tables
When it comes to cooking up a storm on your Weber Q BBQ, space can be at a premium. Once you factor in your meat, vegetables, tools, drink, and anything else you need within reach, you may find that the standard Weber Q model is not built with this space in mind. However, at KAON, we created sturdy stainless steel side tables to suit the Baby Q and the Weber Q models. These side tables come in pairs and easily attach to either side of your BBQ. They are built to be sturdy and do not flex under normal pressure. They are extremely easy to clean and store away under the hood of the Weber Q. They also won't melt like the plastic tables if you fold them away before the grill cools down.
Stainless steel convection tray
The Weber Q is excellent for roasting when you use a convection tray and trivet. Unlike the disposable aluminium convection trays, KAON stainless steel convection trays can be re-used saving money and reducing landfill. They come in 3 different sizes to suit all Weber Q BBQs.
At KAON, we have addressed a few issues to make a great BBQ even better. The first products we developed were cleaning tools that fit the grills perfectly, while also doubling as a bottle opener. Our replacement stainless steel side tables are easy to clean, more rigid, and won't melt if you accidentally fold them in on a hot grill. If you are a regular roaster, our range of reusable stainless steel convection trays are better for the environment and will also save you money. All of our products are made from durable and long-lasting stainless steel and are proudly designed and made in Australia.