KAON GEAR GUIDE: 
Our Top Travel Oven Tips and Hacks
Date Posted: 5 August 2021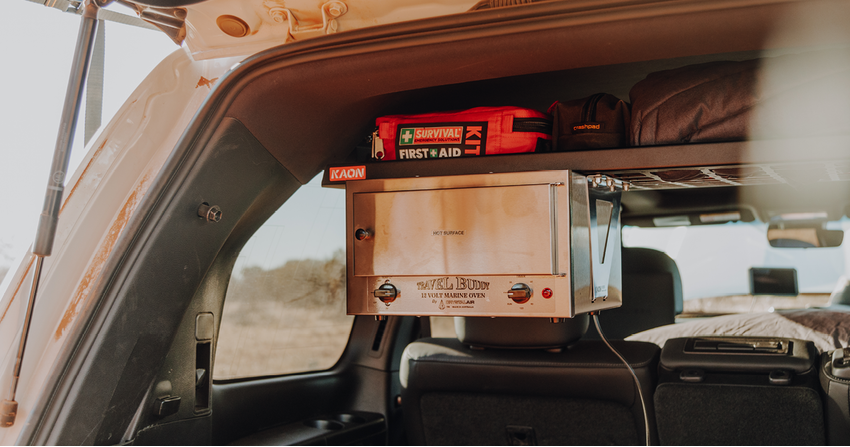 Imagine hot baked goods at your fingertips, no matter where you were. Or if dinner would cook itself, while you drove to camp. Enter your new best friend, the Travel Oven.
In case you're new to the concept of a Travel Oven, it does exactly what it says on the tin – it's a small, stainless-steel, 12V powered oven made for travel. We've seen them fitted in wagons, canopy setups, even boats. Some get one for quick getaways, others for their big laps, and some even put them in the back of the work ute, for a warm lunch every day. No matter how you use it, once you have a Travel Oven incorporated into your setup it's hard to imagine life without it.
To help you get the most out of your travel oven, we've collated some of our favourite tips, plus some handy hacks we've designed over the years.
T I P
Timing is Everything
There are a few factors that need to be considered when working out just how long you need to leave that pie in the oven. First up is prewarming. Just like you wouldn't run a race without stretching, it's best to give your oven a chance to heat before putting it through its paces. We find at least half an hour of warm up is the sweet spot to get your oven performing at its best. That said, a general guide for Travel Ovens is to add anywhere from 30-50% on top of an items usual suggested cooking time.
H A C K
Early Rises & Late Arrivals
This one is a bit of a no-brainer. If you don't want a mess all through your oven, whether it be flakes of pastry or melted cheese, it makes sense to use oven trays. Especially when travelling on corrugated roads or tracks.
We love the half-height trays for stacking and cooking meals for the whole family. Pies, sausage rolls, spring rolls, quiches, crumbed chicken or fish, croissants... the list goes on.
Full-height trays are great for containing larger items that require a deeper dish. Vegetables, casseroles, lasagne, nachos, even ribs or small roasts.
We've also got flat sheet trays, which we find great for cookies, pastries, pizzas, and other baked items.
T I P
Cook for the Conditions
It might seem obvious, but we've learned the hard way that some foods and particularly challenging tracks don't always go together. If you're planning on tackling terrain that where you're likely to lift a wheel or two, maybe save that lasagne for another day. That is, unless you like your food deconstructed. Let's just chalk that one up to experience...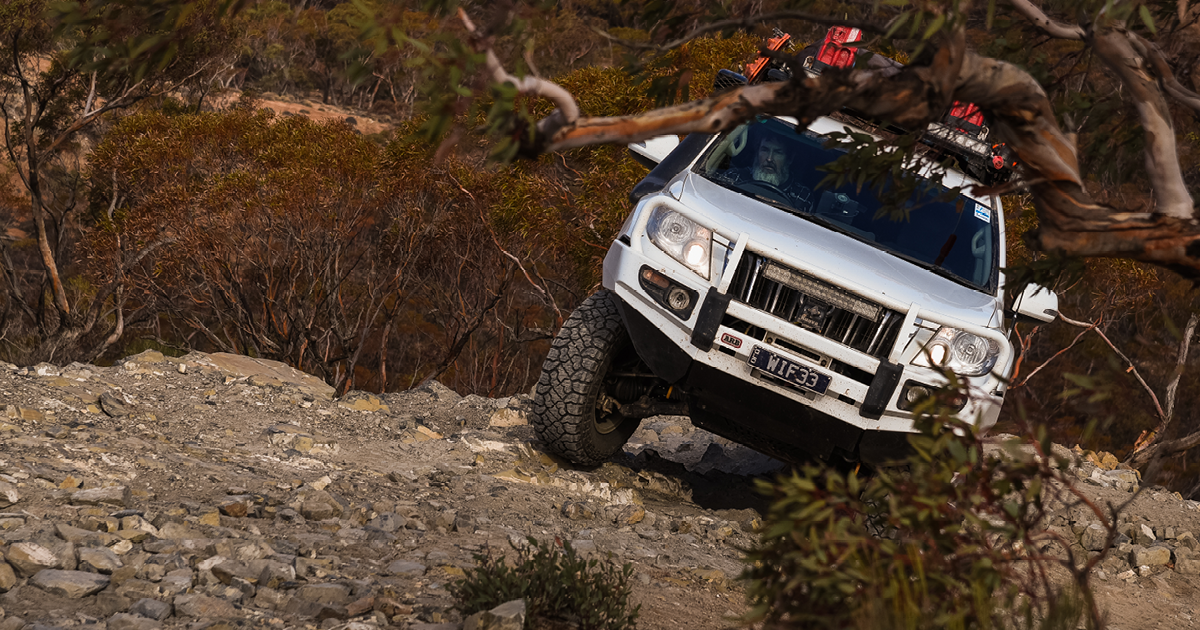 T I P
Early Rises & Late Arrivals
In reality, we have to balance work and play. We've all arrived at camp late because of an after-work departure, or had an early rise at dawn to beat traffic. With a bit of forward meal planning, these are perfect opportunities to put your Travel Oven to work. Pop your breakfast or dinner in the oven as you walk out the door, and within an hour or two, it's ready to go. Take it from us – there's nothing better than arriving at camp after dark with the knowledge that you've already taken care of dinner.
H A C K
Mounting Your Oven
There are endless ways to incorporate a Travel Oven into your setup. Without a custom drawer build it can get a little trickier, and floor mounting the oven often uses valuable real estate. To remedy this, we've developed brackets that mount to KAON Standalone and Cargo Barrier Shelves. Securely mounted, the oven brackets take advantage of unused vertical space and keeps those lower areas in your vehicle for bulkier, heavier items. Best of all, they're compatible with all the leading oven brands: Travel Buddy, Road Chef and KickASS.
We load rate our shelves to 10kg. So clocking in at 5kgs, even the large Travel Buddy 12V Marine Oven can be mounted on our shelves, with plenty of weight to spare.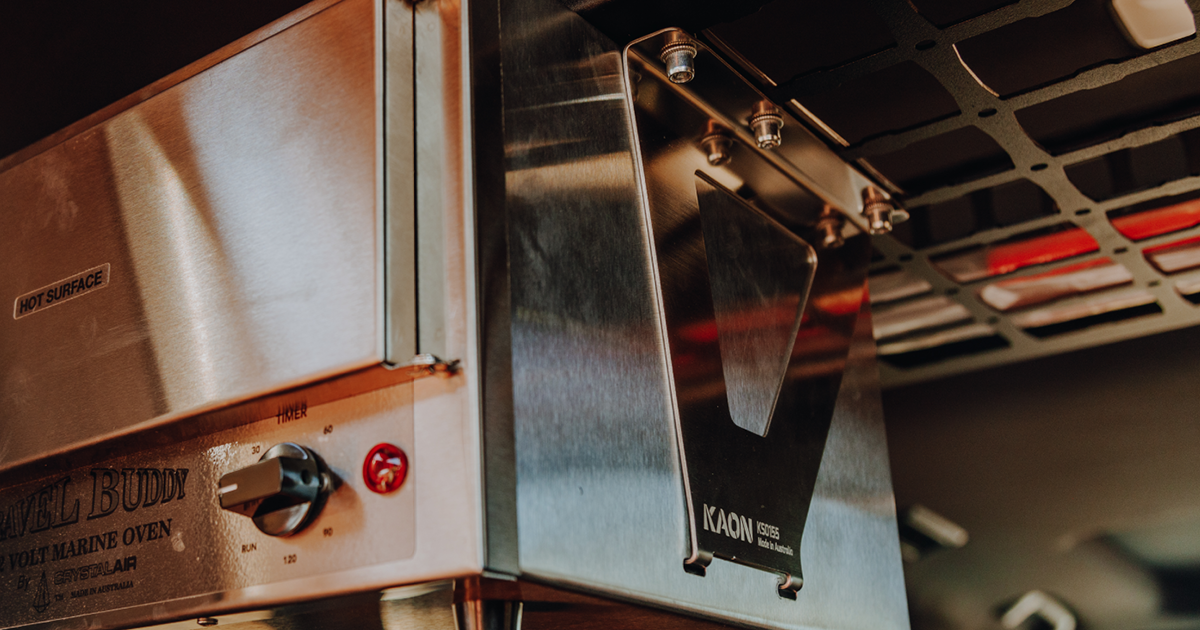 T I P
Power Up
When working out where to mount your oven, make sure you've factored how you're going to run power, and where your nearest access point is. Travel Buddy's do come with a decent 12V accessory/cigarette plug. However, if you're planning on doing some off-road travel, it's worth taking the time to hardwire it, to prevent it from coming loose from the socket. Or, if you are handy enough, replace the plug with a 50amp Anderson plug, which keeps it secure in the socket whilst still ensuring it's easy to remove.
H A C K
Turn up the Heat
Now Travel Ovens do a pretty good job on their own, but there's a few little hacks we've come up with that we think help them along and make them even more effective, especially when it comes to maintaining and distributing heat.
The first is additional door insulation. Most Travel Ovens have well-insulated tops, sides and bottoms. But the thinner door design can often result in cold spots at the front of the unit.
To counteract this, we've designed a Stainless Steel Cover that sits over the existing door. This provides a cavity to sandwich a 12mm thick piece of ceramic fibre insulation, which helps the oven reach higher internal temperatures, faster, and with less power. It also ensures a more even temperature throughout the entire oven, and keeps the door cooler to the touch, lessening your chances of an accidental burn.
The second is quite simple – and that's using a trivet. Depending on the item, nesting a trivet within an oven tray helps circulate heat evenly, and therefore cooks more evenly too.
T I P
Think Outside the Box
Sure, pies and sausage rolls are synonymous with the Travel Buddy, and for good reason – they're damn tasty. But why not try something a little different? Here are some of the fun things we've seen cooked on our travels:
Spare Ribs

Pasta Bake

Brisket

Cob Loaf

Bread or Damper

Chocolate Cake

Scones

Fish and Chips, or for a healthier take – Salmon and Vege

Jacket Potatoes

Roasted Buffalo Cauliflower
We're getting hungry just thinking about these. *chefs kiss*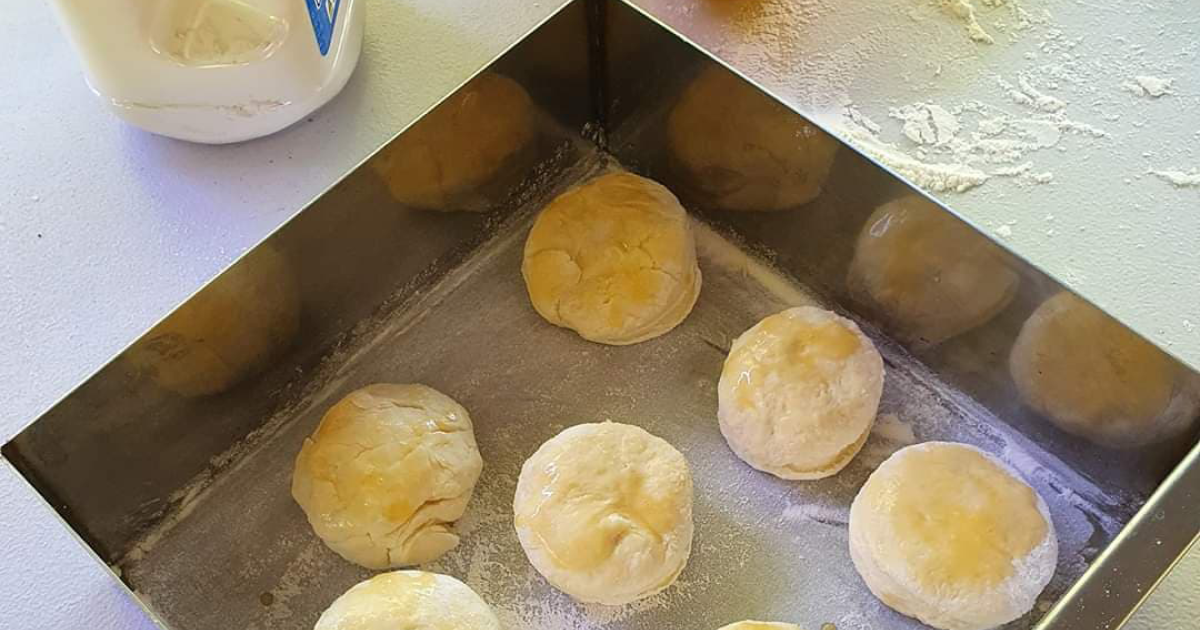 T I P
Leftovers & Pre-Cooking
After something a little lower-key on the cooking front? One of the most popular uses for the travel buddy is to reheat pre-cooked meals. After a tiring day, it's nice to just grab a vacuum-sealed dinner and pop it in the travel buddy. Just make sure to place your vacuum bag in a tray and poke a hole in it, or you'll likely find yourself opening the oven to a balloon, or worse – a popped balloon.
We think a Travel Oven is one of our favourite additions to our camp cooking setup, owing to its simple install and easy, versatile use. The hardest thing about owning one is resisting the urge to pull food out of the oven early, as heavenly smells waft into the car. 

Shop the blog and our range of Travel Oven accessories here.

---
Leave a comment